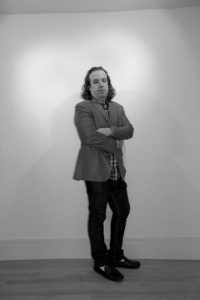 American – Israeli Artist
Born 1974 Tel Aviv, Israel
Shay Kun is an Israeli-American contemporary artist. He is a follower of the Hudson River School movement, in particular, he creates post-modern interpretations. The artist works in the hyper-surrealist style. In general, Shay Kun's art embodies in three series: Tear Drops, Lift Off (Hot Air Balloons), and Slums.
Early Life
The painter was born in Tel Aviv in the artistic family. His parents, Ze'ev and Heddy Kun, both are artists. They moved to Israel from Hungary. The talant of the young artist was recognized early. Furthermore, his first exhibition already had hapened, when he turned 18. After that, he began his education at Bezalel Academy of Art and Design in Jerusalem (1998). An important point was his master degree at Goldsmiths, University of London (2000). Since then, he has resided in New York City.
Kun's works has been exhibited worldwide, including solo shows at galleries in Chicago, New York, Atlanta, Berlin, Boston and Tel Aviv. Furthermore, he participated in group expositions such as the 51st Venice Biennale, Shanghai Contemporary Art Museum, Untitled gallery in New York, Fortes Vilaca Gallery in São Paulo, Leslie Smith in Amsterdam, and at Lehmann Maupin Gallery, New York.
Shay's central accent is on the harmonious deconstruction of the original image in order to create the organic digital artificial depiction.
Over the years,
the artist's miraculous surrealisitc style has obtained unique features. Shay Kun explores an original image and transforms it according to the perceptions opposed to the actual ones. He finds inspiration in very different things – city landscapes, nature or computer games. For Kun a series is never finished or complete, as each subject is his interpretation of the reality. Besides, he deals with the spectators' ability to comprehend how this subject develops. Additionally, he discusses the challenges, that human's actions pose to the planet. The artist shows the issues of the pollution and disbalance in his works.
Moreover,
Shay Kun inherited the Holocaust influence on his parents' art, who survived the Holocaust. This can be interestingly noticed in the colorful utopian paintings of Shay. His mother shows utopian landscapes of an ideal peaceful world. Conversely, his father, depicts a dark collapsed world.
You can find a large selection of his artwork in Kings Gallery.
Kings Gallery is a leading fine art gallery established in Jerusalem in 1995 that strives to collect and sell the highest quality historic and contemporary Israeli and International art.